Your app for best routes and destinations
Naviki blazes the trail and taps the full potential of cycling!
Comprehensive free basic version for immediate, world-wide use in all cities and countries
Always find optimised routes for cycling
Navigate and newly discover your environment
Route options for everyday cycling, leisure, mountain ­bike, racing bike and s-pedelec
From shopping to camping – always find the fitting destination
Just one tap and Naviki records your trip – you can proudly share it with your friends afterwards
Everything you need for bicycle mobility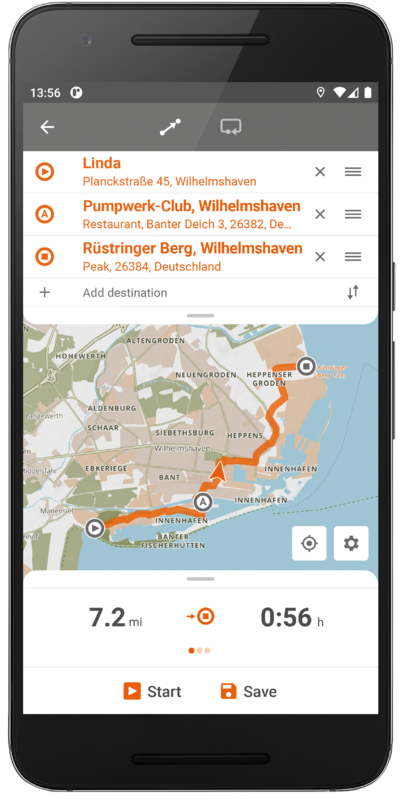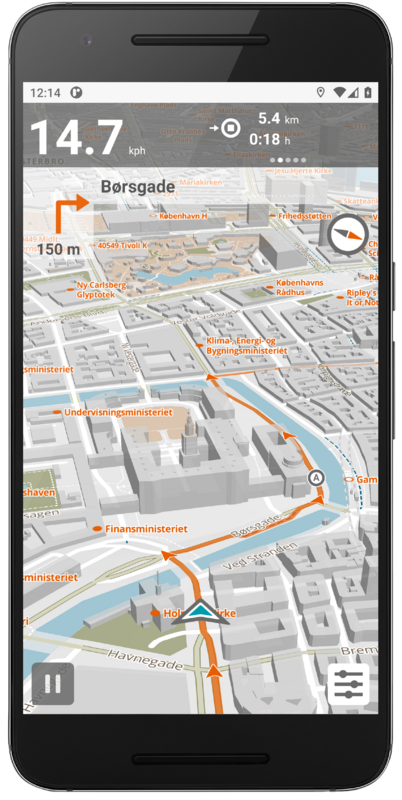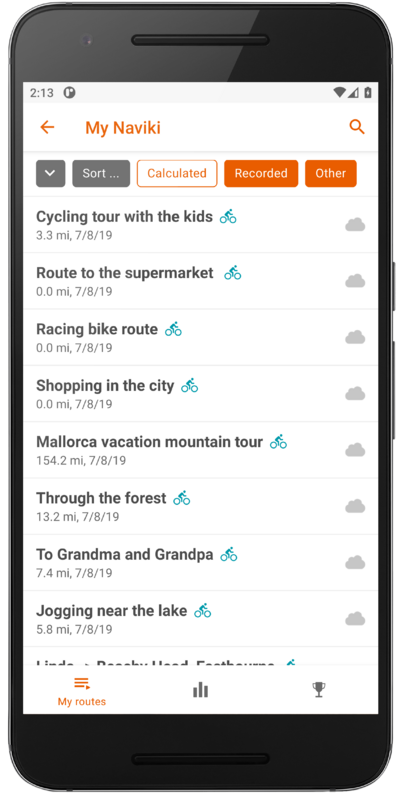 Features of the Naviki app
Boost your bicycle mobility
Naviki is the comprehensive bicycle App! It offers world-wide best route planning for bicycles and an impressive documentation of your cycling activities. For everyday, leisure, mountain bike and racing bike Naviki provides routes between any start and destination point. Naviki immediately shows your route on a map and it accompanies you with turn-by-turn instructions. Naviki easily records your cycled trips and synchronises them in your Naviki Cloud. Simple and practical: Plan routes on www.naviki.org and transmit them to the Naviki app by just one click.
ROUTE PLANNING
Simply enter your start and destination, immediately get your customised route with the most important additional information.
TURN-BY-TURN NAVIGATION
Spoken instructions and pleasantly large navigation arrows on your display. By means of spoken instructions, the phone can remain in your pocket which is energy-saving. Spontaneous deviation from a planned route is no problem - Naviki automatically calculates a new route to your destination.
ACTIVITIES
See graphics of your cycling activities over the last 28 and 365 days as well as for your overall time with Naviki. View impressive personal heatmaps for these periods. Learn how many calories you burn, how much money you save and how much CO2 you avoid by cycling.
EVERYDAY ROUTING
Gives you the cycle tracks for your daily activities. Prefers minor roads, bicycle lanes, rather short and straight routes as well as easy accessible and solid surfaces.
LEISURE ROUTING
Your cycle routes for tourism and leisure activities. Prefers officially signposted cycle tracks, easy accessible and solid surfaces, minor roads and a nice natural environment.
MOUNTAIN BIKE ROUTING
Your routes for great MTB experiences! Prefers unsealed surfaces, single trails, distinguished and signposted MTB routes as well as forest and country tracks.
SUCCESSES
Plan individual successes. These may contain locations you want to visit as well as performances like a certain distance you want to cycle or an amount of CO2 you want to avoid. Naviki shows how you achieve such successes, trip by trip. Share your successes if you like.
RACING BIKE ROUTING
Racing bike routes for fascinating fast trips! Prefers sealed and smooth surfaces, tracks allowing high-speed cycling, minor roads, a scenic environment.
S-PEDELEC ROUTING
Tailored routes for fast e-bikes up to 30 mph on roads allowing power-driven vehicles. Prefers minor roads and a nice environment whenever possible.
ROUND TRIPS
Just enter a start and a required length – Naviki calculates numerous alternative round trips to choose from for immediate navigation.
POINTS OF INTEREST
Naviki contains a huge and well-structured collection of Points of Interest that you can easily implement in your calculated routes by using them as start and destination points.
BICYCLE MAPS
High quality Naviki maps for cycling. Choose your favourite look from three different map styles. Furthermore, select wether you want to see official lanes for cycling and touristic bike routes highlighted on the map.
HEIGHT PROFILE
For all routes Naviki provides a height profile, the highest and lowest points and the total altitude to be cycled upwards.
SPEED PROFILE
For all recorded routes the app shows a speed profile against the time and the distance of your trip.
CONNECT FITNESS DEVICES
Connect fitness devices to Naviki via Bluetooth Low Energy (BLE), record puls and cadence data with your routes and see these data as a graph afterwards.
CONVENIENT COCKPIT
Speed​​, average speed, distance traveled and distance to your target are always in view. During navigation and recording the speedometer is automatically displayed.
RECORD YOUR TRIPS
Just one tap and Naviki records the trip you cycle and stores it in your personal Naviki cloud. Easily create an impressive statistic on www.naviki.org! You can always add an individual description to each route.
TURN BY TURN INSTRUCTIONS FOR RECORDED ROUTES
Naviki provides turn-by-turn instructions for routes of arbitrary origin, including those you recorded with Naviki.
SAVE ROUTES
Plan comfortably on the web and then immediately use your routes via Naviki App: transmit your routes from www.naviki.org to your Naviki App by just one click.
LISTS FOR PLANNED, RECORDED AND OTHER ROUTES
Clearly arranged lists show your recorded and your calculated routes, providing easy access to your most important cycling activities.
Set up Naviki as your cycling app
Free basic package, Extras, subscription and Offline Maps
The Naviki app provides you with a comprehensive free basic package.
Some of the above-mentioned functions are available in the app as paid Extras for a one-time fee, unlimited in time and space.
Alternatively, the app offers a favourably priced subscription for one, six or twelve months. The subscription unlocks all features mentioned above.
In addition to the above mentioned features, the Naviki app provides Offline Maps for many countries and for entire continents. With the offline maps, you can see a map even if you don't have or don't want internet access.