Shortcuts for instant actions from your home screen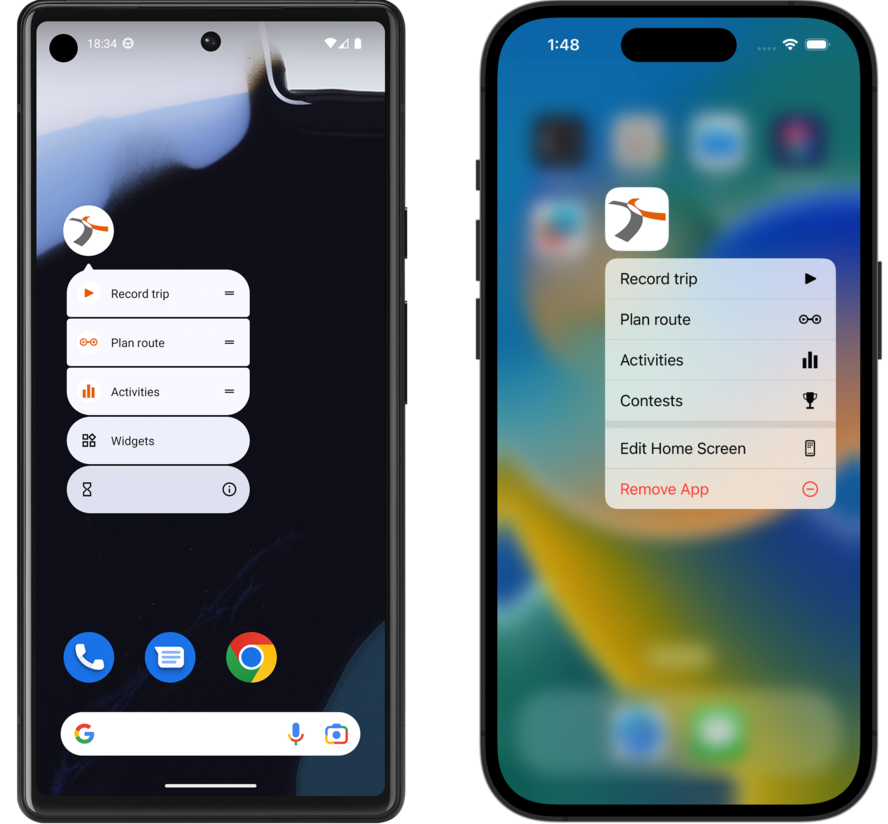 Recording trips, planning routes, viewing activities. You now have immediate access to these essential Naviki functions directly from your home screen. When you participate in a contest, you can also jump directly into it.
Just touch and hold the Naviki app icon and then tap where you want to go.
As of now in your Naviki app for Android and iOS.
Start recording trips by smartwatch
You want to record a trip with Naviki, but your mobile is in your pocket? No problem. Just start recording via your smartwatch.
It's as simple as this:
Open the Naviki app on your smartwatch and start recording by a single tap.
Start, pause and stop your recording any time on your watch.
You don't have to grab your mobile.
Plan routes with your saved locations
Plan routes with your favorites and locations from planned successes easier than ever before. Go to "PLAN ROUTE" and tap "Choose destination". You then see the options "Location from planned success" and "My favorites".
You can also create, edit or delete your favorites here.
Available in the Naviki app for Android and iOS.
Share Naviki Extras with your family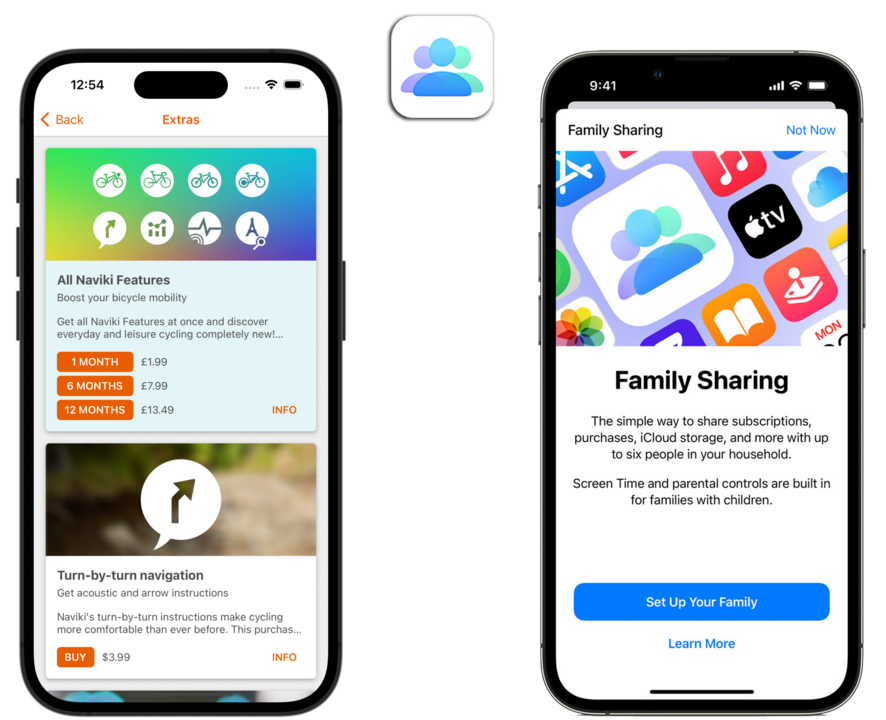 Simply activate family sharing on your Apple device to share Naviki purchases. You can find the requirements and more information about family sharing here.
This applies to all extras purchased after 1st January 2023. You can even share your "All Naviki Features" subscription. One hour after purchase, you can share your extras with your family.
Brand new route planning and display
We have launched the most comprehensive Naviki update since a long time. When you go to "Plan route" or open a saved route, everything is now even clearer and easier to use. Here are the main improvements:
On the new interface of "Plan route" you can see the map any time.
Hold your finger on the map to add a destination. Naviki intelligently integrates it to your route.
Above the map you find a sheet with all functions for planning your route. Just pull it down.
For each route you will find a sheet with the most important information below the map. Pull it up to see the height chart and more.
Push both sheets out of sight to maximise the map. You can always pull in the sheets again.
All established Naviki functions for planning are still there for you.
Try it right away in your Naviki app!

Naviki Home Screen Widgets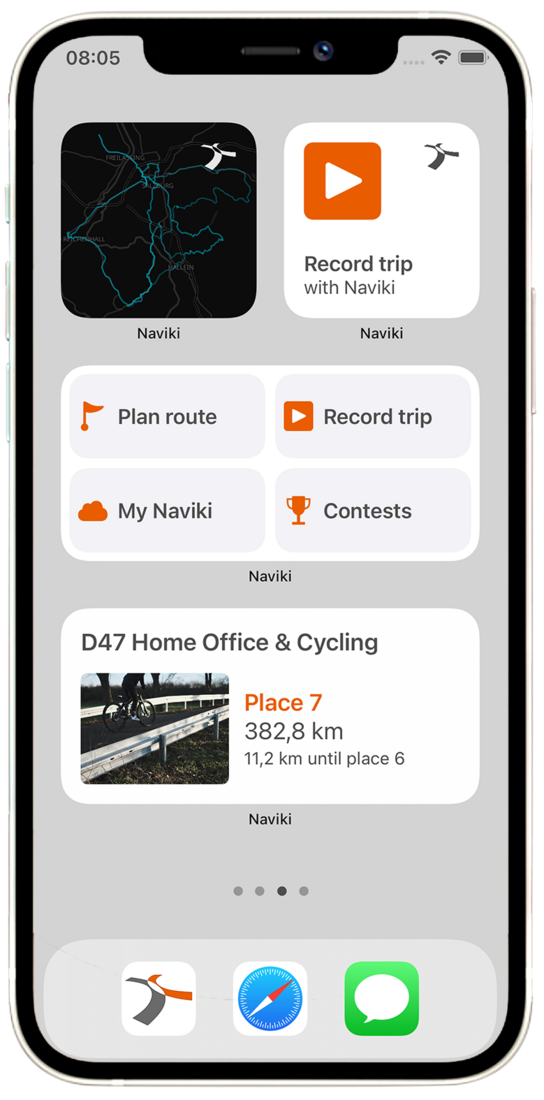 To help you get started even faster, the new Naviki widgets bring immediate access to great Naviki features to your Home Screen:
Initiate route planning
Start recording trips
See your recorded trips on heatmaps (tap for direct access to more statistics in My Naviki)
Have your current milage and ranking in view when you participate in a Naviki Contest
Access Plan Route, Record Trip, My Naviki and Contests via a combo widget
All widgets are available for dark mode as well.
You decide which of these widgets you add to your Home Screen. Find general information about iOS widgets on the Apple support page ...
Equivalent widgets for Android coming soon!
Individual activities and successes in focus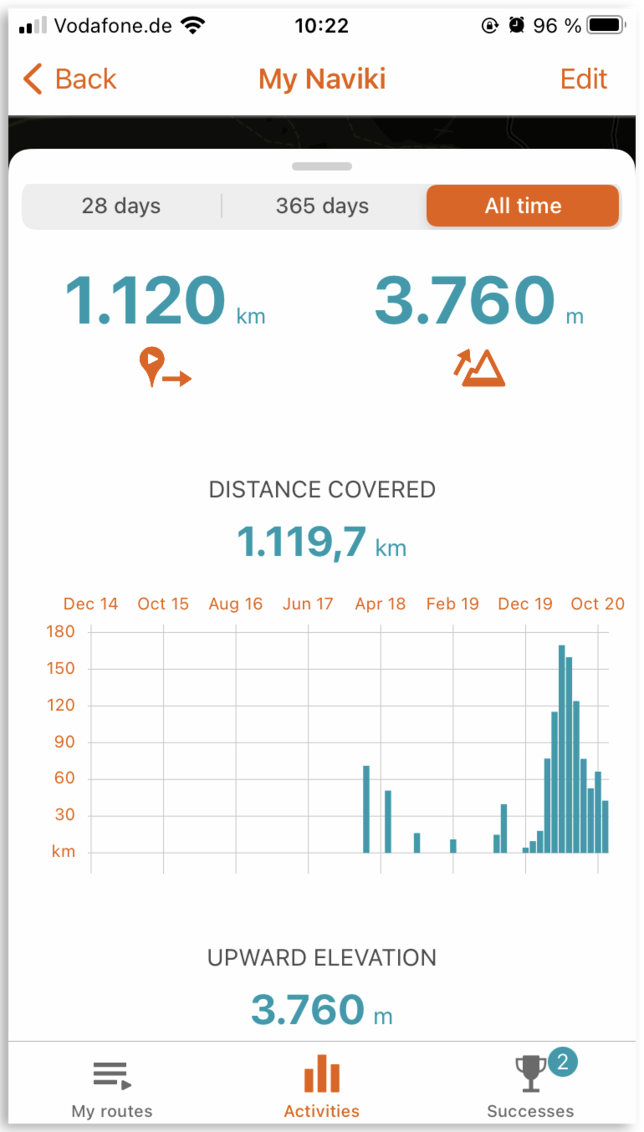 Even more motivation for cycling
Look at your activities and see what you have achieved in the last 28 and 365 days or during your entire time with Naviki. Your personal heatmap and exciting graphics for these periods are waiting for you.
Plan up to 20 personal achievements and get on your bike even more motivated. Experience how you achieve these successes trip by trip and be proud of it! If you like, share your successes with friends or other Naviki users.
Naviki Route Widgets for your website
Easily embed routes in blogs and websites
With the Naviki Route Widget you can integrate any bike route as an attractive preview on your own website with just a few clicks. For your online magazine, blog or tourism page, the route widget is a smart package of useful information, adding value to your bike content.
We recently introduced new maps in the Naviki app. They provide the following advantages amongst others:
Selection of several bicycle-specific map styles for different tastes
Optional automatic night mode
Hill shading for the representation of mountains
Display of contour lines
3D representation of buildings (style "Muscle Ache")
Display of regional, national and international theme and brand routes ("Plus" styles and "Muscle Ache")
Display of bicycle route nodes ("Plus" styles and "Muscle Ache") which are particularly popular in the Netherlands, Belgium and the German-Dutch border area.
Display of MTB-Trails
Automatic alignment of fonts in viewing direction
We have set up a specific information page about the new maps. There you will find related tips and further useful information.
New powerful map functions and improved leisure routing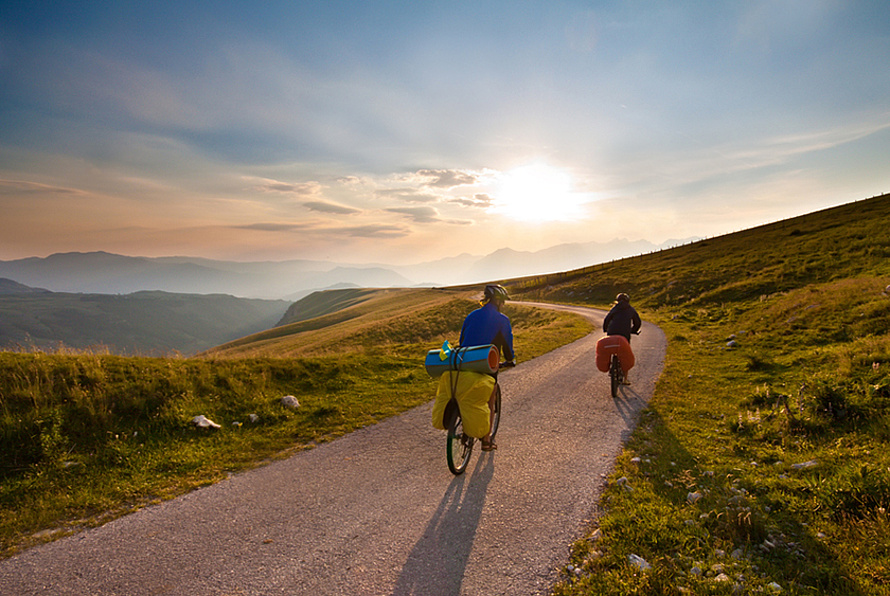 As of now the Naviki routing for leisure is significantly upgraded. Routes calculated with this option now run even more consistent on officially signposted bicycle tracks as well as on long distance paths. The improved leisure routing is available via both Naviki apps and here on the web interface.
Not least we have also released a new Naviki update for Android and iOS. These are the main news for Naviki within both apps:
Map setting 'northbounded while cycling' (tap on the top right compass icon in navigation mode for setting)
New arrow showing direction and distance to the route, when you leave a route (Naviki Extra 'Turn-by-turn navigation' required)
Furthermore Naviki for iOS now comes with the following enhancement:
Improved map with new, 3D-like look (use two fingers to set your perspective on the map)
Enjoy cycling with Naviki!
New routing for racing bikes and a second routing result
Schöne Verbesserungen im Web und in den Apps:
Wer bei Naviki eine Wunschroute plant, sieht ab sofort zusätzlich zu der besten Verbindung zwischen zwei Orten auch eine Alternativroute. Das ist immer dann der Fall, wenn sie über eine ähnlich hohe Qualität verfügt wie der beste Vorschlag. Die zweitbeste Variante erscheint zunächst in Grau und lässt sich durch einen Tap für das Routing auswählen.
Naviki bietet weitere Optimierungen für die Tour auf dem Rennrad. Das neue Routing setzt noch konsequenter auf asphaltierte Wege und vermeidet Abbiegungen noch stärker. Wer direkt in der App planen möchte, benötigt das Naviki-Extra "Routenplanung für Rennrad".
Dicker Dank an alle, die mit Hinweisen und Wünschen auch für diese Optimierungen wertvolle Hinweise gegeben haben!