Your activities and successes in focus
Even more motivation for cycling
Look at your activities and see what you have achieved in the last 28 and 365 days or during your entire time with Naviki. Your personal heatmap and exciting graphics for these periods are waiting for you.
Plan up to 20 personal achievements and get on your bike even more motivated. Experience how you achieve these successes trip by trip and be proud of it! If you like, share your successes with friends or other Naviki users.
Naviki Route Widget for your website
Easily embed routes in blogs and websites

With the Naviki Route Widget you can integrate any bike route as an attractive preview on your own website with just a few clicks. For your online magazine, blog or tourism page, the route widget is a smart package of useful information, adding value to your bike content.
By means of updates in March 2019 we have introduced new maps in the Naviki app. They provide the following advantages amongst others:
Selection of several bicycle-specific map styles for different tastes
Optional automatic night mode
Hill shading for the representation of mountains
Display of contour lines
3D representation of buildings (style "Muscle Ache")
Display of regional, national and international theme and brand routes ("Plus" styles and "Muscle Ache")
Display of bicycle route nodes ("Plus" styles and "Muscle Ache") which are particularly popular in the Netherlands, Belgium and the German-Dutch border area.
Display of MTB-Trails
Automatic alignment of fonts in viewing direction
We have set up a specific information page about the new maps. There you will find related tips and further useful information.
The solution for saving your smartphone's energy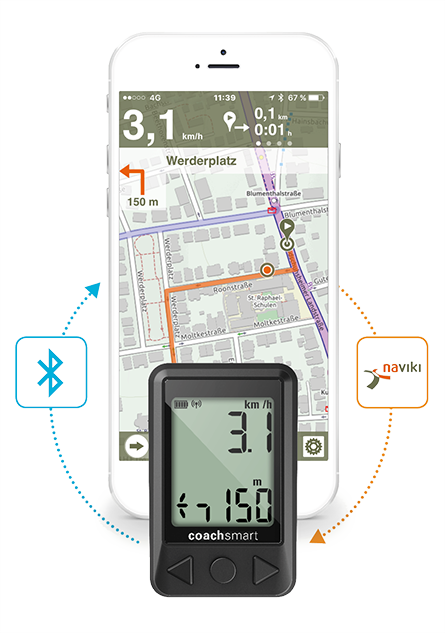 Saving battery power can be a big issue for cycling long trips if you don't want to miss Naviki's navigation. Here's a good solution.
Simply connect your smartphone with the multi-functional bike computer Coachsmart via Bluetooth. Coachsmart serves as a second display that mirrors selected information delivered by Naviki's turn-by-turn navigation.
The Coachsmart's display constantly shows the remaining distance to the next turn and a corresponding arrow. The advantages are obvious: this combination saves battery power while the smartphone is stored safely in your the backpack or pocket.
Connect the Naviki App with the Coachsmart and enjoy Naviki's turn-by-turn-navigation even on extended routes.
New powerful map functions and improved leisure routing
As of now the Naviki routing for leisure is significantly upgraded. Routes calculated with this option now run even more consistent on officially signposted bicycle tracks as well as on long distance paths. The improved leisure routing is available via both Naviki apps and here on the web interface.
Not least we have also released a new Naviki update for Android and iOS. These are the main news for Naviki within both apps:
Map setting 'northbounded while cycling' (tap on the top right compass icon in navigation mode for setting)
New arrow showing direction and distance to the route, when you leave a route (Naviki Extra 'Turn-by-turn navigation' required)
Furthermore Naviki for iOS now comes with the following enhancement:
Improved map with new, 3D-like look (use two fingers to set your perspective on the map)
Enjoy cycling with Naviki!
Our Web-Relaunch introduces many improvements on www.naviki.org – these are the most important news in a nutshell:
Much smarter, clearer and intuitively understandable interface in a new beautiful design.
'Plan route' page completely redesigned with a larger map and newly designed controls for easier planning.
'Points of interest' of various categories can be displayed on the map and implemented in route planning as starting points and destinations.
Easy planning of round trips in just a few steps and with a variety of options to choose from.
Easy and quick way to synchronise planned routes with the Naviki app using the large button 'Memorise route and use it on app' in the map.
New routing option 'S-pedelec' for fast e-bikes up to 30 mph.
World-wide route planning.
E-bikes – tailwind non-stop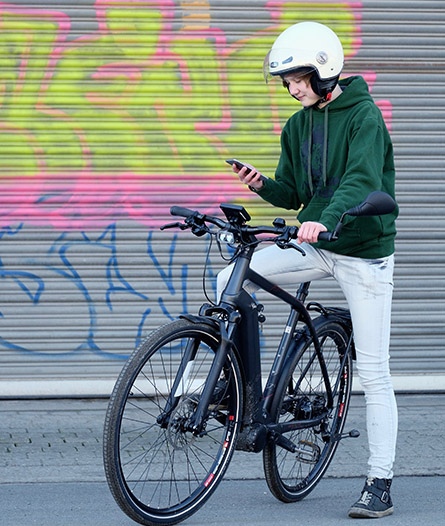 Electric support for faster and more relaxed cycling
E-Bikes and S-pedelecs are bicycles with electric motors. They make cycling even more comfortable and they can play a major role in future transport on distances up to 30+ miles. Cycling with a pedelec is definitely faster than ordinary bikes. However, the support of the motor does not necessarily lead to less physical involvement of the cyclist. The same commitment of your muscles will simply bring out higher speed and sooner arrivals!
A good e-bike is pricey, but the benefits and significantly increased fun make these new vehicles more and more popular. If you can imagine how S-pedelecs can easily substitute a car, it will be worth investing in this highly advanced bike.
Naviki routing for S-pedelecs
As the first platform Naviki provides specific routing for S-pedelecs (up to 30 mph). It offers routes with minor roads and low traffic, tracks allowing high-speed cycling and a nice natural environment. The new S-pedelec routing is available in the 'Extras' menu of your Naviki app. Furthermore, Naviki shows the location of e-bike charging stations as 'Points of interest' on the map to be selected as destinations for route calculation.