Your Contest in
the Naviki app
Selected insights
Your branding and all info at a glance
Your Contest is easy to find in the Naviki app (MORE / Contests). Participants access the Contest directly from the Naviki start view by tapping on the Contest Button.
Your key image including your logo points out that this is your campaign.
The clearly arranged central Contest view provides access to rankings, heatmaps and team management.
The large Naviki community will notice that you are actively involved in the promotion of cycling. Not least, your Naviki Contest underlines that you are committed to climate protection and environmentally friendly mobility.
In just a few steps, your target group will participate:
To install the free Naviki app on the smartphone and to create a Naviki account
To activate participation in the Contest
To record cycled trips by just one tap
All cycled trips recorded during the Contest are automatically included in the ranking.
Naviki also provides route planning and navigation optimised for cycling. So Naviki helps to always cycle the most suitable route and to discover new bicycle routes. During navigation, the app also records the trip and includes it in the contest.
Exciting, always up-to-date rankings
Numerous different ranking types are available, for example individual and team rankings, rankings for cities, districts, departments or other categories within your Contest.
You decide which rankings are visible for participants of your Naviki Contest.
All rankings update every five minutes.
The power of bicycle mobility visualised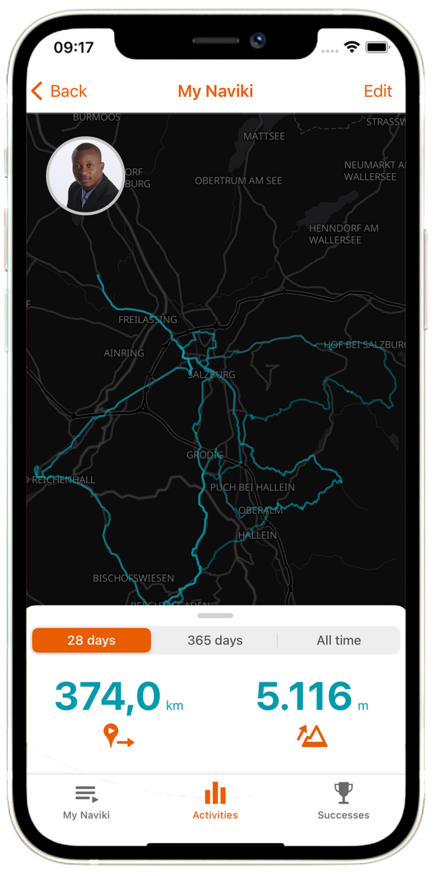 Heatmaps in the Naviki app show all recorded trips on a map. The more frequent routes are used, the brighter they glow. It's fun to see how heatmaps grow over the course of the Contest.
Heatmaps encourage participants to try out different routes and to discover their environment in a new way.
Heatmaps are possible for individuals, for teams as well as for all routes of all participants. For data protection, heatmaps for teams and for all participants may hide the first and last section of each recorded trip.
In the Naviki app, in MORE / Contests, you will find a Demo Contest. You will easily see how it works. Contact us if you do not yet see the Demo Contest in the app. We will be happy to provide you access.