Naviki routing API
High-quality bicycle routing
for your application
Integrate bicycle routing via API
Naviki is one of the world's leading platforms for bicycle routing. Using the Naviki API, you can easily integrate Naviki route planning into your services.
Get high-quality bike and footpath routing in three easy steps:
Your application passes user-generated start-destination requests to the Naviki API
On a server, the Naviki software calculates customised routes and navigation instructions
Your application receives the aggregated routing results from the Naviki API and displays them in the frontend
By using the Naviki API, you will determine the best connections for your target group. The routing can be optimised in many ways to meet your needs:
Consideration of mobility-relevant aspects, such as preference for certain sections or route qualities as well as optimisation of the number of turns and traffic lights
Avoidance of steep gradients through height-sensitive routing, which favours routes with the lowest possible gradient
Consideration of traffic regulations depending on the type of vehicle
The Naviki routing API is highly performant and offers response times from 50 milliseconds. This allows multiple requests with about 50 to 80 start-destination combinations, for example to integrate the Naviki API into a multimodal routing.
Define your own preferences for your bicycle and footpath routing or use the established Naviki routing profiles for bicycle traffic:
Always find the best route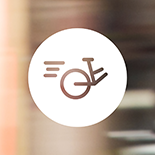 Individual service and high flexibility
The Naviki API offers a flexible and performant routing solution. This applies to hosting the routing server as well as to upgrades and supplementary services.
For hosting, both software-as-a-service and operation on your servers are possible.
In addition to the software, we offer all services required for smooth operation: professional assistance for your planning and set-up, as well as maintenance and support.
We will be happy to present the advantages of the Naviki API to you. Simply contact us and describe your use case for high-quality route planning now!
More information and contact
We look forward to your enquiry!
Phone +49 251 60970072
Mobile +49 176 99195760
contact(at)naviki.org