The Rhine Cycle Route in NRW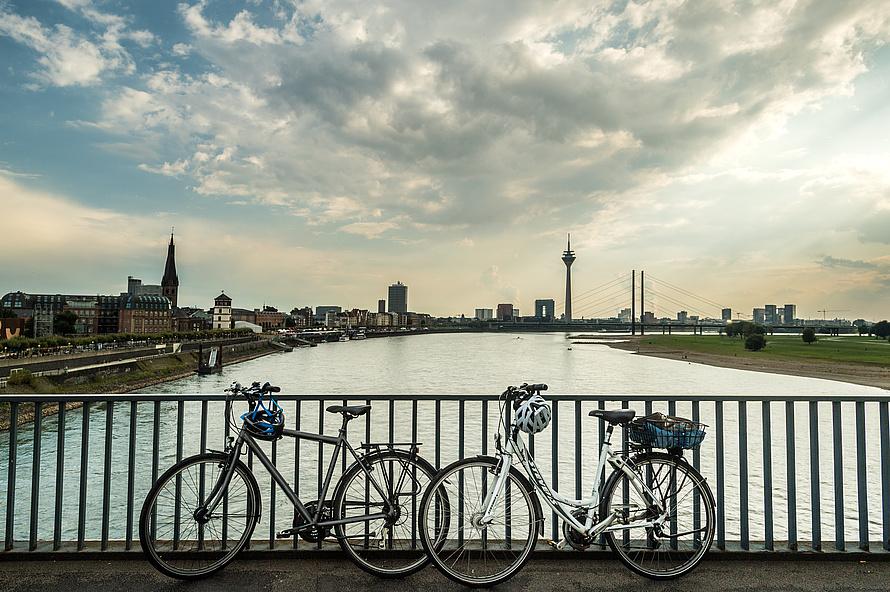 From Honnef to Dusseldorf
High above the legendary Rhine the Siebengebirge sit enthroned, with Drachenburg Castle and the Drachenfels – this is where the cycle route in North Rhine-Westphalia begins, leading through romantic landscapes and busy metropolises.
In addition to well-known highlights such as Cologne Cathedral, cyclists can discover hidden treasures: Türnich Castle lies a little off the route but is a true gem for leisure cyclists. In Dusseldorf, the Media Harbour provides a delightful architectural backdrop for a stop-off.
From Dusseldorf to Emmerich
The flat landscape of the second leg of the Rhine Cycle Route offers numerous high points for tourists: It passes by the impressive industrial culture of the western Ruhr District and through the charming Lower Rhine region. The Bislicher Island meadow landscape provides a time out for nature lovers – thousands of wild geese overwinter in the wetlands here. Shortly before the Dutch border, the route passes Moyland Castle in Bedburg-Hau and leads to Emmerich hosting the highest suspension bridge in Germany.
Rhine Cycle Route in NRW – Bad Honnef to Emmerich (227,34 km)
On its journey to the sea, Europe's most famous river runs through North Rhine-Westphalia for 226 kilometres: this is the most exciting section of the route. Here, every single kilometre of the Rhine offers a new panorama. Holidaymakers and day-trippers can discover the scenic and cultural diversity on both sides of the river from Bad Honnef to the Dutch border – from the romantic Siebengebirge, with the legendary Drachenfels hill and Drachenburg Castle, through the three Rhine metropolises of Bonn, Cologne and Düsseldorf, with their rich traditions, and the industrial city of Duisburg, to the expansive landscape of the Lower Rhine. Here, cyclists will pass sights such as the castle of Schloss Schwanenburg in Kleve and the towns of Emmerich am Rhein and Rees with their Rhine promenades. The route runs on both banks of the Rhine, with the majority on well-built, cycle-friendly paths with standardised signposts.
Learn more ...
Further Information about the Rhine Cycle Route in NRW