Only the bike will save our cities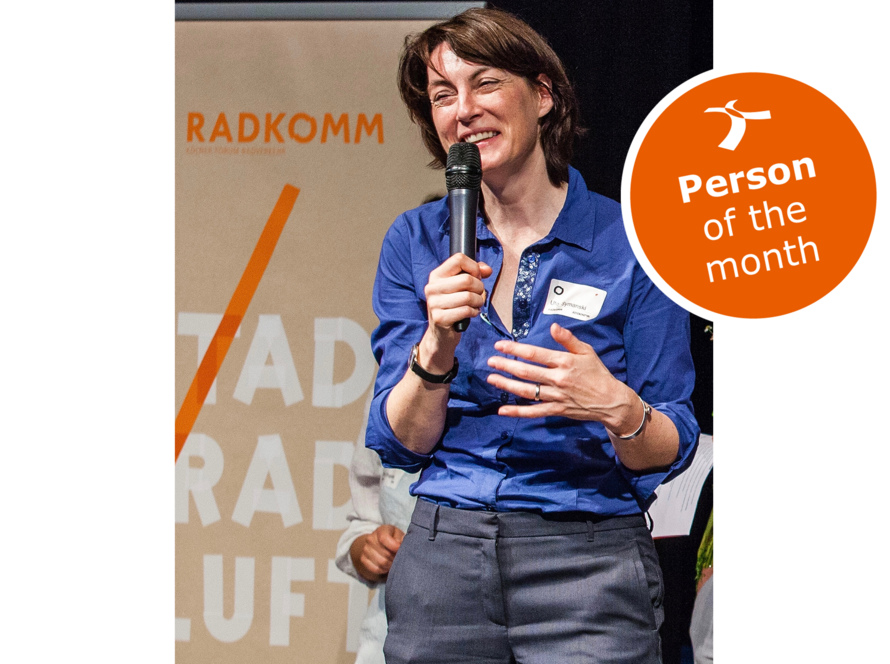 Naviki interview: Ute Symanski
Dr. Ute Symanski is chairman of the association RADKOMM e.V. in Cologne and trust person for the popular initiative "Aufbruch Fahrrad". In 2009, she and friends founded the Cologne voter group "DEINE FREUNDE", which steps up for more participation and aleatory procedures at the local level. She is an organizational consultant for cities, municipalities and science organizations.
Naviki: After you have been active in the local politics of Cologne for six years, in 2015 you founded the association Radkomm e.V. - what exactly does the association do?
Ute Symanski: In one sentence my answer would be: RADKOMM is a think tank for sustainable urban mobility. We have been organizing the RADKOMM Congress once a year since 2015. And we bring people together throughout the year who otherwise would not necessarily come together: Decision-makers in politics and administration with citizens and experts with activists. Therefore, RADKOMM also is an exchange and communication platform.
What challenges do we have to overcome to give bicycle mobility a significant boost?
Only the bike will save our cities - from bad air, noise, lack of space, sealing, aggression. The biggest challenge is to bring this knowledge to the decision-makers in politics and administration. When they change their "mindset" in this sense, everything else goes by itself.
You have also launched the popular initiative "Aufbruch Fahrrad" - what are the three most important goals?
First, we want to prove to the politicians in the country how many people want a different mobility policy. Therefore, "Aufbruch Fahrrad" is an encouragement program for politicians. Secondly, we want to create a platform for civil society and network actors from sustainability, climate protection, environmental protection, mobility or civil society in general. Thirdly, we do "agenda setting" which means that we bring our demand for a 25 % share of cycling into the country, talk to people, and do media work.
Do you sometimes encounter limits, if so, how do you stay motivated and focused?
Yes, all the time. On time limits, because of all the volunteer and part-time work. Lack of openness in the minds of many politicians or people in traffic and urban planning is a limit, as well as hardened fronts. It's easy to be motivated and purposeful in this team of people who are passioned with the same cause. Appreciation and respect in the team are key motivators. Also all the countless conversations with the people on the streets who sign up for "Aufbruch Fahrrad". We get a lot of appreciation and recognition from them which clearly shows that we strike a chord.
How can one support your projects, what can I as a cyclist do?
First: Absolutely and as quickly as possible sign the petition (link below) yourself and ask others to sign as well. We have long since reached the minimum number of 66,000 signatures, and we want more. Until shortly before the RADKOMM 5 on 1st June 2019 we will accept signatures. Each of them will be included in the total number of signatures that we will announce on the 1st of June. Also one should definitely participate in the NRW rally on 2nd June by cycling to Dusseldorf. And, of course, everyone should spread our petition "Aufbruch Fahrrad" in their social media channels to reach as many people as possible.
If it ever happens that you are not fighting for more bike mobility - what are you up to in your spare time?
I engage myself in aleatory procedures in local politics. (smiles*)
Thanks for the interview, Ute Symanski!
*Note by the editor
About Ute Symanski
Dr. Ute Symanski is an organizational consultant for cities, municipalities and science organizations. In 2009 she founded the voter group "DEINE FREUNDE" in Cologne, which advocates alternative politics and more participation at the local level. In 2014 and 2015 she was in the Cologne City Council and the Transport Committee of the City of Cologne. DEINE FREUNDE's main focus is the shift in traffic - which is why they invented "RADKOMM" in 2015. She is the co-founder of the RADKOMM and since November 2017 chairman of the Radkomm e.V. In June 2018, Ute registered the popular initiative "Aufbruch Fahrrad" in NRW. The goal is to reach a 25 % share of bike traffic in NRW.
Interviews with interesting people who have a special relation to cycling.